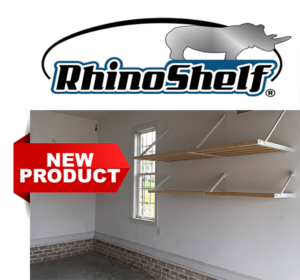 Rhino Shelf Garage Storage System
Rhino Shelf shelf storage solutions are perfect for your garage or workshop! Available in a variety of finishes.
Rhino shelves are the strongest, most versatile wall-mounted garage shelving system on the market.
Contact Eastside Garage Outfitters today to learn more about how we can help you get your workspace organized and get rid of the clutter.
Made in the USA
Each 4-ft section of Rhino Shelf holds 650 pounds!
Engineered Safe – Rhino Shelf has not had a structural failure in our entire 15 years. We do not attach to ceiling joists and truss systems.
Visually attractive design that is available in a white powder coat and an industrial brushed aluminum.
Rhino Shelf is 33.5 inches in depth, designed around 30-35 gallon stackable storage totes. Our system holds 4 of these totes in each 4-ft section, providing the most cubic area of storage space compared to any system, anywhere, period.
The RhinoMini is the perfect solution for "quick-grab" and "short-term" storage. Just as strong as the Rhino Shelf, the RhinoMini keeps everything easily accessible while the Rhino Shelf easily handles the "long-term" storage.
The design is versatile. Handle corners easily by connecting a Rhino Shelf to another Rhino Shelf to form an "L" shape. However, you can connect a Rhino Shelf to a RhinoMini, or vice versa to create corners as well. You can also make a corner from 2 RhinoMini shelves. Whatever your customer wants and whatever their garage configuration, Rhino Shelf has a design.
Perfect for stud construction, cinder blocks, concrete, you name it.
Your customers have already paid for the space in the garage – Use it efficiently and save by not using off-site storage units.
Smart engineering – The Rhino Shelf design features diagonal supports that go UP to the wall, not DOWN as the "stiff-knee" products do. As far as engineering is concerned, this means that you cannot cantilever the shelf. A total shear force at the bottom, the perfectly placed axis point, and the tension and shear. The material that we use is the same aerospace aluminum alloy that is used in the wing of the F-16 fighter jet. In other words, the system is safe, strong, and handles the load in the most efficient way. What does this mean for your customer – If the diagonal support arm is going UP, then it is out of your way. Open car doors without worry – walk under the Rhino Shelf easily – truly clear your space to make your life easier.
The wood decking is versatile. The National Association of Professional Organizers (NAPO) sent a team of engineers to consult with us during the design. They HIGHLY encouraged the use of wood. Why pay for proprietary, custom bike hangers that cost a fortune from other shelving companies when you can go to your local home improvement store and buy screw hooks for about $1.50? Also, while we love using 2x4s, your customer may want 2x6s (popular with car enthusiasts for storing tires in the garage) or even 2x4s with plywood on top for a solid deck. Anything that you can do with wood, the Rhino Shelf family of products can do it.
Call Today For A Free Consultation
Eastside Garage Outfitters is now providing Garage Upgrade Services to
Seattle, Bellevue, Redmond, Kirkland, Medina, Issaquah, Mercer Island, Sammamish, Bothell, Woodinville, Snoqualmie, North Bend, Renton, and Surrounding Areas